Dortmund
The city is (espe­cial­ly in­ter­na­tion­al­ly) main­ly known for foot­ball (AE: soc­cer) and ⇓beer.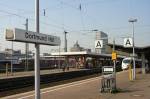 Both the city's official website and its Wikipedia entry now offer extensive information on Dortmund. There are also hundreds of photos in these locations.
Some­times I also take Pho­tos in Dort­mund. You can call this my personal perspective on the city.
Beer and Nightlife
Not so long ago Dort­mund used to be "Europe's No 1 Beer City", with the high­est an­nu­al pro­duc­tion and a strong ex­port. Those great times are def­i­nite­ly over... Still there's a num­ber of nice beers, some of which are ex­port­ed even to re­mote lo­ca­tions: DAB, Brinkhoff's, Kro­nen and last but not least Hövels. The "Bierkul­turin­sti­tut", a tra­vel guide for Japane­se tourists of­fers pho­tos of logos and brew­eries of many, many Ger­man beers, in­clud­ing some from Dort­mund.

donight.de shows where to party in Dort­mund: clubs (aka "Disko") + bars (aka "Kneipe") + par­ties + events (Ver­anstal­tun­gen) + forum... with a huge database, links to a city map (Stadt­plan) for all en­tries and get-there-and-back links (hin & weg) for to the VRR's timetable in­for­ma­tion. Great site!
The map in this page's background is my adaptation of a Wikipedia map (created with Inkscape).